Assistance for Members Impacted by the COVID-19 Virus Situation
At Enrichment, the health and well-being of our members, associates, and communities is our top priority. You can be confident that Enrichment FCU is dedicated to continuing to serve your financial needs and provide you the support necessary to overcome any financial challenges that you may be facing. We are actively monitoring the virus and following guidance from state and federal agencies including the
Centers for Disease Control. 
REMINDER: The Credit Union will never contact you and ask for your personal information, including debit/credit card number, CVV number, or social security information.  If you receive a request for this information, please do not respond. 
Updated 1/5/2021
Our Branches and Lobbies are OPEN!
On July 2nd, 2020, the Knox County Board of Health approved regulation 2020-1 requiring masks be worn in public buildings. Although masks are not required by regulation in other counties, our employees will wear them at all branch locations for your protection. We highly recommend members wear a mask into the branch. A disposable mask can be provided if you do not have one. Our drive-thru and remote services are available if you prefer not to wear a mask.  
Here is what you can expect from us:
Common areas such as coffee stations and public restrooms will remain temporarily closed.
Masks will be worn by branch staff and members are encouraged to do the same while inside the branch.
We have installed plexiglass guards at teller locations.
Each branch will monitor lobby traffic to ensure we're limiting the number of members in the building at any one time.
Branches will be cleaned throughout the day and thoroughly at night.
For security purposes, prior to entering the building, if wearing a mask, we may ask you to temporarily remove it so that we can properly identify our members.
We continue to monitor the situation and will adjust operations, as deemed appropriate, to maintain the safety of our members and staff.
Contact Us
24/7 Telephone Support, 800-482-0049
Secure Message from online banking
"How To" Guide
Use our "
How To" Guide
for helpful resources to make navigating your finances easier during this difficult time. We strongly encourage you to use Enrichment's digital branch and other resources for self-service banking and 24/7 account access. If you haven't enrolled in online access, it only takes a few minutes.
Enroll now
. Click the graphic below to download a copy.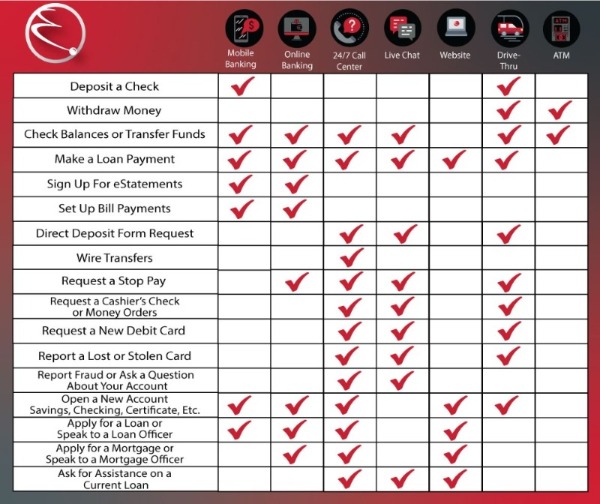 ---
Economic Impact Payment Information
On Friday, March 27th, 2020 President Trump signed the Coronavirus Aid, Relief, and Economic Security (CARES) Act 2020 into law.  There are many provisions in the act supporting individuals, small businesses, and corporations. 
As of December 30th, 2020, the Internal Revenue Service and the Treasury Department began delivering a second round of Economic Impact Payments (EIP) as part of the Coronavirus Reponses and Relief Supplemental Appropriations Act of 2021.
Here are some FAQs to help answer your questions. 
Please see the Individual FAQs below for more information regarding the 2nd Stimulus Deposit Payments from the Coronavirus Reponses and Relief Supplemental Appropriations Act of 2021. 


Paycheck Protection Program (PPP)
The PPP Program has expired as of August 8th, 2020.   If Congress allocates further resources or extends the deadline, we will update this information and reopen the online application. 


PPP Forgiveness
On June 5th, the PPP Flexibility Act was signed into law which provided significant concessions for loan borrowers as we move into the forgiveness period. Among them:
Extension of original 8-week spending window to 24-weeks. 
Reduction of 75% payroll requirement to 60%
For now, it is our recommendation for you to wait until closer to the end of the 24-week covered period, beginning on the date of your PPP loan, to submit any forgiveness paperwork. This will allow you ample time to spend the funds appropriately to gain loan forgiveness. As we work through this phase of the PPP loan program, we will reach out to all our PPP borrowers to expedite the forgiveness process. 
Alerts & Scams
The U.S. Secret Service and the FBI have both circulated information concerning large-scale fraud against multiple state unemployment insurance offices involving the use of stolen personal identifiable information (PII). The crime ring is submitting fraudulent state unemployment claims on behalf of U.S. citizens who, in most cases, have not been laid off. The criminal submits a fraudulent unemployment claim and request that deposits be made into accounts that have no connection to the individual in which the claim is being filed for. As soon as the deposit(s) are made, the account holder is informed to transfer the money elsewhere. Please monitor your accounts for any unusual or unauthorized transactions, and be aware of schemes that request you to receive direct deposits from out of state unemployment offices. 
Get more information, including tips on how to protect yourself on the
FBI.gov website
.
---
Credit Card Limit Increases
We understand that some of our members may experience financial hardship as a result of COVID-19. As an additional support measure for our members, Enrichment FCU has increased consumer credit card limits by $1,000 effective March 16, 2020.1
1 Limit increase is automatically applied to consumer credit cards only and effective as of 3/16/2020. This includes Mastercard, Rewards Mastercard, and Platinum Mastercard. Account must be in good standing and less than 30 days past due to qualify. Business accounts and Home Equity Lines of Credit are excluded. Please contact us if you are in need of additional assistance.
---
Additional Member Assistance
We also understand that there may be instances where members find themselves facing financial difficulties. Enrichment is here to help and we encourage members who may be impacted to reach out to discuss how we might be of assistance. 
Should you find yourself in need of assistance, please
contact us
. 
My travel plans have been cancelled and the charges on my card have not been removed. What are my options?
Contacting the merchant is often the fastest way to resolve a dispute. If you incur a loss due to cancelled or interrupted travel, we encourage you to reach out to the merchant directly first. If you need help from Enrichment FCU, you can contact us directly.
My income has been impacted by the COVID-19 virus, can you help?
Yes! Our branches are open. We encourage the use of Enrichment's digital branch and other resources for self-service banking and 24/7 account access.  Visit our branch locator for hours of the branch nearest you. We certainly appreciate your patience during these unique circumstances as we work to conduct business in the safest possible manner.
As a reminder, you can always access your accounts online or by using the Enrichment FCU Mobile App at your convenience. From there you can make payments, view transactions, check balances, find an ATM, and more. It's easier than ever before to manage your account digitally and use Enrichment's digital tools and other resources for self-service banking and 24/7 account access. If you have not enrolled in digital account access, enroll now. It's easier and faster (in most cases) to manage your account digitally, especially given call wait times may be longer than usual.
Will Enrichment Travel Club trips be cancelled?
At this time, all trips scheduled for 2020 have been cancelled. Please
contact us
if you have any questions.