Assistance for Members Impacted by the COVID-19 Virus Situation
At Enrichment, the health and well-being of our members, associates, and communities is our top priority. You can be confident that Enrichment FCU is dedicated to continuing to serve your financial needs and provide you the support necessary to overcome any financial challenges that you may be facing. We are actively monitoring the virus and following guidance from state and federal agencies including the
Centers for Disease Control. 
REMINDER: The Credit Union will never contact you and ask for your personal information, including debit/credit card number, CVV number, or social security information.  If you receive a request for this information, please do not respond. 
Updated 5/14/2020
Our Reopening Plan for Branch Lobbies
As we continue to manage through the coronavirus (COVID-19) pandemic, the safety of our members and staff remain paramount.  Since the first of May, in following state and federal guidance, we've implemented a phased approach to re-opening our branches.  Beginning Monday, May 18th, all Enrichment FCU branch lobbies will reopen to serve you during normal business hours Monday – Friday. Our lobbies will continue to remain closed on Saturdays. Drive-thru hours will remain as normal.  Use our online branch locator to review operating hours of branches near you.
While we begin to re-open our branches, we'll continue to be mindful of the health and safety of our members and staff. We encourage you to continue using our online and mobile banking, live chat, and drive-thru services.
Here is what you can expect from us:
Drive-thrus will remain open for all transactions (as they are now).
Starting Monday, May 18th, lobbies will be open M-F normal hours.  Lobbies will remain closed on Saturday.  You can see branch locations and effective hours at our online branch locator page.
Common areas such as coffee stations and public restrooms will remain temporarily closed.
Staff will be required to wear face masks and we've installed plexiglass guards at teller locations.
Each branch will monitor lobby traffic to ensure we're limiting the number of members in the building at any one time.
Branches will be cleaned throughout the day and thoroughly at night.
For security purposes, prior to entering the building, if wearing a mask, we may ask you to temporarily remove it so that we can properly identify our members.
We appreciate your patience as we work through reopening our lobbies to serve you.  We want to provide you greater access in a safe manner. We continue to monitor the situation and will adjust operations, as deemed appropriate, to maintain the safety of our members and staff.
Contact Us
24/7 Telephone Support, 800-482-0049
Secure Message from online banking
"How To" Guide
Use our "
How To" Guide
for helpful resources to make navigating your finances easier during this difficult time. We strongly encourage you to use Enrichment's digital branch and other resources for self-service banking and 24/7 account access. If you haven't enrolled in online access, it only takes a few minutes.
Enroll now
. Click the graphic below to download a copy.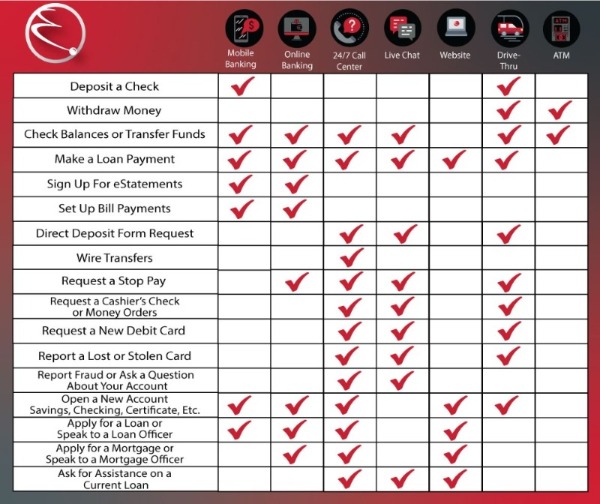 ---
CARES Act 2020 Information
On Friday, March 27th, 2020 President Trump signed the Coronavirus Aid, Relief, and Economic Security (CARES) Act 2020 into law.  There are many provisions in the act supporting individuals, small businesses, and corporations.  Here are some FAQs to help answer your questions. 


Paycheck Protection Program
Enrichment will continue to accept PPP applications for existing members as long as funds remain available through the SBA. 
If you're an Enrichment FCU member who owns a business, but you're not yet a business member, you can submit your PPP application online. 
Any changes made by Congress, the Department of the Treasury or the Small Business Administration may affect our ability to further process or approve applications.
We'll contact you with any status updates by email. Our contact center and branches will not have information on your application's status.
---
What We Are Doing to Help
We are here to support you during this difficult time. Please check back for updates to our pandemic relief efforts and how we can offer assistance.
---
Pandemic Assistance Program
If you have been impacted by the COVID-19 pandemic, Enrichment has several options available to assist you.
Enrichment is offering a 0% interest loan with a maturity of 30 days. The maximum loan amount cannot exceed the member's monthly net income. Credit qualifications are not required unless you have been a member less than 90 days. Call us at 800-482-0049 for more information or use our electronic form to
APPLY HERE.
Other options available include:
Refund of late payment fees
Refund of NSF and overdraft fees
Flexible payment options for all loan types
Skip-A-Payment fees waived 
Please contact us or call 800-482-0049 for more information. 
Credit Card Limit Increases
We understand that some of our members may experience financial hardship as a result of COVID-19. As an additional support measure for our members, Enrichment FCU is increasing consumer credit card limits by $1,000 effective March 16, 2020.1
1 Limit increase is automatically applied to consumer credit cards only and effective as of 3/16/2020. This includes Mastercard, Rewards Mastercard, and Platinum Mastercard. Account must be in good standing and less than 30 days past due to qualify. Business accounts and Home Equity Lines of Credit are excluded. Please contact us if you are in need of additional assistance.
---
Additional Member Assistance
We also understand that there may be instances where members find themselves facing financial difficulties. Enrichment is here to help and we encourage members who may be impacted to reach out to discuss how we might be of assistance. 
Should you find yourself in need of assistance, please
contact us
. 
My travel plans have been cancelled and the charges on my card have not been removed. What are my options?
Contacting the merchant is often the fastest way to resolve a dispute. If you incur a loss due to cancelled or interrupted travel, we encourage you to reach out to the merchant directly first. If you need help from Enrichment FCU, you can contact us directly.
My income has been impacted by the COVID-19 virus, can you help?
Are your branches still open?
As a result, in implementing CDC guidelines for social distancing, all branch lobbies will begin limited access (by appointment only) beginning Saturday, March 21, 2020.  To ensure we can adequately support you in our drive-thru and by phone, we will expand available staff for those channels.  We strongly encourage you to use Enrichment's digital branch and other resources for self-service banking and 24/7 account access.  Our drive-thrus are open and ready to serve you during our normal operating hours. Visit our branch locator for hours of the branch nearest you. We certainly appreciate your patience during these unique circumstances as we work to conduct business in the safest possible manner. Click here for answers to common questions regarding the closing of our lobby branches. 
As a reminder, you can always access your accounts online or by using the Enrichment FCU Mobile App at your convenience. From there you can make payments, view transactions, check balances, find an ATM, and more. It's easier than ever before to manage your account digitally and use Enrichment's digital tools and other resources for self-service banking and 24/7 account access. If you have not enrolled in digital account access, enroll now. It's easier and faster (in most cases) to manage your account digitally, especially given call wait times may be longer than usual.
Will Enrichment Travel Club trips be cancelled?
The Enrichment Travel Club trip to New Orleans, scheduled for April 20th - 25th, has been postponed until May 18th. All other trips are still scheduled as planned. Please
contact us
if you have any questions.