Assistance for Members Impacted by the COVID-19 Virus Situation
At Enrichment, the health and well-being of our members, associates, and communities is our top priority. You can be confident that Enrichment FCU is dedicated to continuing to serve your financial needs and provide you the support necessary to overcome any financial challenges that you may be facing. We are actively monitoring the virus and following guidance from state and federal agencies including the
Centers for Disease Control. 
REMINDER: The Credit Union will never contact you and ask for your personal information, including debit/credit card number, CVV number, or social security information.  If you receive a request for this information, please do not respond. 
Updated 3/12/2021
Our Branches Are Open
On July 2nd, 2020, the Knox County Board of Health approved regulation 2020-1 requiring masks be worn in public buildings. Although masks are not required by regulation in other counties, our employees will wear them at all branch locations for your protection. We highly recommend members wear a mask into the branch. A disposable mask can be provided if you do not have one. Our drive-thru and remote services are available if you prefer not to wear a mask.  
Here is what you can expect from us:
Common areas such as coffee stations and public restrooms will remain temporarily closed.
Masks will be worn by branch staff and members are encouraged to do the same while inside the branch.
We have installed plexiglass guards at teller locations.
Each branch will monitor lobby traffic to ensure we're limiting the number of members in the building at any one time.
Branches will be cleaned throughout the day and thoroughly at night.
For security purposes, prior to entering the building, if wearing a mask, we may ask you to temporarily remove it so that we can properly identify our members.
We continue to monitor the situation and will adjust operations, as deemed appropriate, to maintain the safety of our members and staff.
Contact Us
24/7 Telephone Support, 800-482-0049
Secure Message from online banking
"How To" Guide
Use our "
How To" Guide
for helpful resources to make navigating your finances easier during this difficult time. We strongly encourage you to use Enrichment's digital branch and other resources for self-service banking and 24/7 account access. If you haven't enrolled in online access, it only takes a few minutes.
Enroll now
. Click the graphic below to download a copy.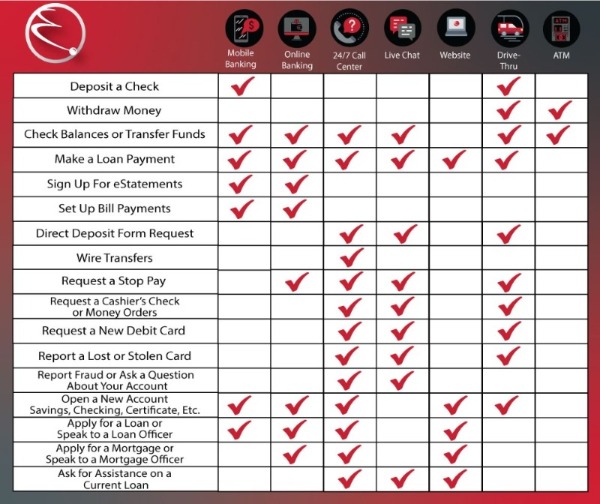 ---
Economic Impact Payment Information
The Internal Revenue Service, on behalf of the Treasury Department, worked to quickly begin delivery of the third round of Economic Impact Payments authorized by Congress in the American Rescue Plan Act in March 2021. Here are answers to some common questions about this set of stimulus payments, which differ in some ways from the first two sets of stimulus payments in 2020, referred to as EIP1 and EIP2.
There is no action needed to receive your 3rd EIP payment. Payments are automatic sent by direct deposit or by mail on a weekly basis. 

Taxpayers should receive the 3
rd
EIP the same way they receive their 2019 or 2020 income taxes. If you normally receive a paper check for income taxes, then direct deposit information can be updated on the '
Get my Payment
' tool. 
If the stimulus payment cannot be posted for reasons such as closed account or incorrect account number, then you will receive a paper check/debit card to the address that the IRS has on file. We do not have information regarding how quickly a paper check will be mailed if a direct deposit is returned.

If your address has changed since you last filed taxes, you can e-file your 2020 taxes to include an updated address. You can also call the IRS to verbally change the address or go the IRS site and file a
change of address form
.
If your bank account has changed since you last filled taxes, you can e-file your 2020 taxes with updated account information. You can also use the '
Get my Payment
" tool to update account information. If the 3
rd
EIP has already been sent to the previous bank account and returned back to the IRS, then you will receive a paper check or debit card.
Important Links:
If you did not receive the 1st or 2nd Stimulus, visit irs.gov and follow the instructions on how to do a Recovery Rebate Credit. 
Frequently asked questions: https://www.irs.gov/coronavirus/get-my-payment-frequently-asked-questions#myaddress
How do I know if I'm eligible for the 3rd EIP? https://www.irs.gov/newsroom/more-details-about-the-third-round-of-economic-impact-payments
Please review the Individual FAQs  below for more information regarding eligibility and updates on all stimulus payments. 
Please see the Individual FAQs below for more information regarding the 3rd round of Stimulus Payments from the American Rescue Plan Act of 2021.


Paycheck Protection Program (PPP)
We have appreciated the opportunity to work with all the small businesses that we have through the PPP1 and PPP2 phases in 2020 and 2021.  We have been able to provide almost 450 loans for over $17.4 million to businesses in the East Tennessee area. Should you have questions regarding your PPP Loan or SBA PPP Loan Program, please email us at ppploans@enrichmentfcu.org.


Alerts & Scams
The U.S. Secret Service and the FBI have both circulated information concerning large-scale fraud against multiple state unemployment insurance offices involving the use of stolen personal identifiable information (PII). The crime ring is submitting fraudulent state unemployment claims on behalf of U.S. citizens who, in most cases, have not been laid off. The criminal submits a fraudulent unemployment claim and request that deposits be made into accounts that have no connection to the individual in which the claim is being filed for. As soon as the deposit(s) are made, the account holder is informed to transfer the money elsewhere. Please monitor your accounts for any unusual or unauthorized transactions, and be aware of schemes that request you to receive direct deposits from out of state unemployment offices. 
Get more information, including tips on how to protect yourself on the
FBI.gov website
.
---
Credit Card Limit Increases
We understand that some of our members may experience financial hardship as a result of COVID-19. As an additional support measure for our members, Enrichment FCU has increased consumer credit card limits by $1,000 effective March 16, 2020.1
 1 Limit increase is automatically applied to consumer credit cards only and effective as of 3/16/2020. This includes Mastercard, Rewards Mastercard, and Platinum Mastercard. Account must be in good standing and less than 30 days past due to qualify. Business accounts and Home Equity Lines of Credit are excluded. Please contact us if you are in need of additional assistance.
---
Additional Member Assistance
We also understand that there may be instances where members find themselves facing financial difficulties. Enrichment is here to help and we encourage members who may be impacted to reach out to discuss how we might be of assistance. 
Should you find yourself in need of assistance, please
contact us
. 
My travel plans have been cancelled and the charges on my card have not been removed. What are my options?
Contacting the merchant is often the fastest way to resolve a dispute. If you incur a loss due to cancelled or interrupted travel, we encourage you to reach out to the merchant directly first. If you need help from Enrichment FCU, you can contact us directly.
My income has been impacted by the COVID-19 virus, can you help?
Yes! Our branches are open. We encourage the use of Enrichment's digital branch and other resources for self-service banking and 24/7 account access.  Visit our branch locator for hours of the branch nearest you. We certainly appreciate your patience during these unique circumstances as we work to conduct business in the safest possible manner.
As a reminder, you can always access your accounts online or by using the Enrichment FCU Mobile App at your convenience. From there you can make payments, view transactions, check balances, find an ATM, and more. It's easier than ever before to manage your account digitally and use Enrichment's digital tools and other resources for self-service banking and 24/7 account access. If you have not enrolled in digital account access, enroll now. It's easier and faster (in most cases) to manage your account digitally, especially given call wait times may be longer than usual.
Will Enrichment Travel Club trips be cancelled?
At this time, all trips scheduled for 2020 have been cancelled. Please
contact us
if you have any questions.