Use Your Phone to Make Your Deposit!
Deposit a check into your account anytime from anywhere. To use Remote Deposit Capture (RDC), just install the Credit Union's mobile app, apply to use Remote Deposit, and set up your login credentials.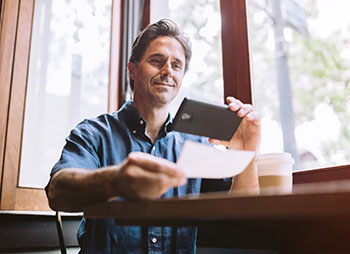 01 CLICK
- Make Deposit once signed into your EFCU app
02 SNAP

  - enter check information and snap photos of the check
03 DEPOSIT

  - verify the information and make your deposit
---
Click into the video below to learn how to register for Remote Deposit Capture!
---
Click into the video below to learn how to use Remote Deposit Capture! 
---
---
How will I know if I am eligible to use Remote Deposit?
If you meet the following criteria you may be approved to begin using remote deposit
Account and loan must be in good standing

No charged off accounts with the credit union
Account has no Defined Services Designation
Remote Deposit features may be removed by the Credit Union at any time based on abuse of service or change in account status.
You will be notified via the email you supplied at the time of sign up.
When will my deposit be available?
There are three cutoff times for remote deposits Monday through Friday. The cut off times are 9 AM, 12 PM and 5 PM EST with deposits posting approximately 9:45 AM, 12:45 PM and 5:45 PM  EST Monday through Friday. Deposits are not approved or posted on weekends or holidays. If your item is deposited and accepted before the cutoff time, then you can expect to see it credited into your account at the next posting time as an electronic deposit with the description of mobile deposit. Please consider these posting times if you need immediate access to the deposit as you may want to consider making the deposit in person.
Which types of checks are not eligible for remote deposit?
Third party checks

Checks with multiple payees

Stale dated checks

Foreign checks

Traveler's checks

Money orders
Should I endorse the back of the check?
Yes, you should endorse the check as you normally would with your signature on the back of the check and include the words "For Mobile Deposit Only @ EFCU".  If this is not included along with your signature, the check will not be accepted for deposit.