Use Your Phone to Make Your Deposit!
Deposit a check into your account anytime from anywhere. To use Remote Deposit Capture (RDC), just install the Credit Union's mobile app, log in to your accounts, and select "Deposit A Check" from the sidebar menu options.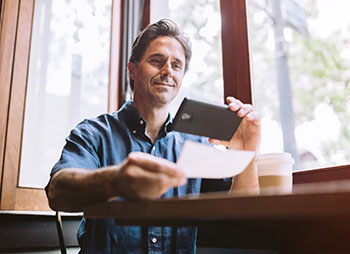 01 CLICK
- Make Deposit once signed into your EFCU app
02 SNAP

  - enter check information and snap photos of the check
03 DEPOSIT

  - verify the information and make your deposit
---
With Mobile Deposit, you can quickly and securely deposit checks in just a few quick steps:
Log in and select

 

Deposit A Check

 

from the sidebar menu.
Select the account you wish to deposit the funds into and the amount of the check.
Sign and write "For Mobile Deposit Only @ EFCU" on the back of the check.
Take an image of the front and back of your check. The final step is to confirm your deposit. Once you select deposit, it will start processing.
Your check deposits can be seen by selecting Activity from within Remote Deposit.
What to do with the check after you deposit:
Once a check has been deposited to your account, make a note on the front of the check with "Mobile Deposit to EFCU" and the date.
Keep the check in a safe place for seven days in case it is needed.
After 30 days, destroy or properly dispose of the check.
---
How will I know if I am eligible to use Remote Deposit?
If you meet the following criteria you may be approved to begin using remote deposit
Account and loan must be in good standing

No charged off accounts with the credit union
Account has no Defined Services Designation
Remote Deposit features may be removed by the Credit Union at any time based on abuse of service or change in account status.
When will my deposit be available?
Your remote deposits will now post in real-time. Any credit to your account for checks deposited using RDC is provisional. In some instances, we may delay the availability of your funds if an item falls outside of remote deposit limits and requires a review. Upon receipt of every remote deposit, we will review the image for acceptability. We reserve the right, at our sole and absolute discretion, to reject any image for deposit into your account. We will notify you of rejected images. We may charge back the amount of the original check and provide you with an image of the original check, a paper reproduction of the original check or a substitute check. 

Which types of checks are not eligible for remote deposit?
Third party checks

Checks with multiple payees

Stale dated checks

Foreign checks

Traveler's checks

Money orders
Should I endorse the back of the check?
Yes, you should endorse the check as you normally would with your signature on the back of the check and include the words "For Mobile Deposit Only @ EFCU".  If this is not included along with your signature, the check will not be accepted for deposit.