Choose the credit card that fits your spending habits.
Want a card that truly does more? Enrichment's Mastercard makes purchasing simple and convenient. Earn cash back rewards with our Mastercard Rewards or Mastercard Platinum! Every Enrichment Mastercard comes with low interest rates, no hidden fees, and built-in security features. 
All of our credit cards include:
No annual fees or balance transfer fees
No cash advance fee or card replacement fees
No over limit fee or inactivity fees
LOW interest rate on unpaid balances
25-day interest grace period
Accepted worldwide
PIN for cash advances at ATMs around the world
$0 liability for fraud
Best if you carry a balance monthly and prefer the benefit of Enrichment's lowest rate credit card.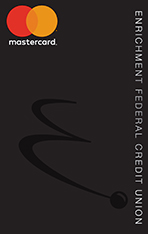 Best if you prefer a low interest rate credit card and the benefits of  cash back rewards.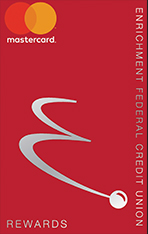 Best if you prefer a low interest rate credit card and cash back rewards with a higher credit limit of $5000 or more.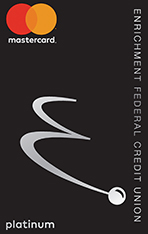 Balance Transfers
3.49%
If you currently have an Enrichment Credit Card, contact us to request a balance transfer.
Get Rewarded!
Get 1% cash back on all transactions with your Enrichment Mastercard Rewards
*up to $15 per month for debit card transactions
Want to give the Perfect Gift?
Enrichment offers VISA gift cards and prepaid travel cards that can be used wherever VISA cards are accepted. Choose any dollar amount from $25 to $500 with the comfort of knowing your gift is protected with Visa's zero-liability policy.
Need to reload your VISA travel card?
---
To report a lost or stolen card, please contact us immediately at 1-
800-482-0049.