It's all about enriching your financial future.
You're not a customer here; you're a member, a part owner of this not-for-profit financial cooperative. Every membership at Enrichment is built on the core value of people helping people.
Our mission is to enrich your financial life with exceptional products and services through your entire life journey.
How We Got Here
Enrichment Federal Credit Union opened its first small office In 1950, as K-25 Federal Credit Union to provide financial services to the employees of the Oak Ridge Gaseous Diffusion Plant (K-25).  The K-25 plant enriched uranium as part of the Manhattan Project.  In 2003 we converted to a community charter which expanded our field of membership to include citizens of the following counties: Anderson, Blount, Claiborne, Knox, Loudon, Morgan, Roane, Scott and Union. 
In 2007 we changed our name to Enrichment.  This name was significant to us because it was a tribute to the work done at the now closed K-25 plant, and placed an emphasis on our ongoing pledge to "Enrich" our members lives by giving them Financial Solutions Made Easy.
---
People helping people
In addition to enriching our member's financial lives, we are committed to expanding our reach to the communities around us. Enrichment Federal Credit Union is all about people helping people, and we accomplish that by getting out in the communities we serve and helping those in need.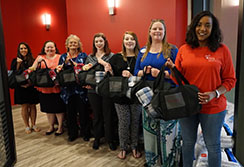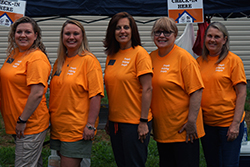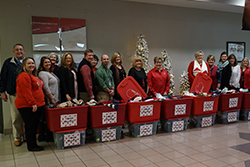 Here are a few examples of what we have done in the communities we serve:
Our Call Center collected 50 duffel bags and filled them with toiletries, a pillow, blanket, Teddy Bear, coloring book with crayons or a deck of cards. The duffel bags were given to CASA of Anderson County for Case Workers to have for children who are taken from their home. 
In the summer of 2018, Enrichment along with several other area credit unions participated in building a home with the Habitat for Humanity
This past year also marked our Roane County Branches 9th Annual Gloves of Love drive where they collect new gloves, hats and scarves for the area children in need 
Follow us on Facebook, Twitter, and Instagram to find out other ways we're involved in the community!


Experience the difference at Enrichment Federal Credit Union!
Have your own story of how Enrichment has helped you with your financial goals? We'd love to hear about it.