Plan for a Stronger Future
Whether you're just starting your savings plan with little to invest, planning for retirement, or aren't sure where you are financially, we can help. We know that the challenges you face as you prepare for the future can be intimidating. That's why we offer tailored solutions for your needs and financial goals. No matter where you are in life, Enrichment Retirement and Investment Services is here for you.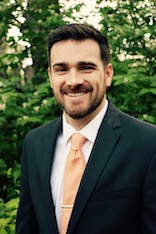 Adam R Brown
Registered Representative With SSN,LLC
865-482-0045 x1160
adam.brown@enrichmentfcu.org
For a no cost, no obligation meeting, contact the Enrichment Retirement and Investment Services Representative, Adam Brown for assistance with mutual funds, insurance needs and more at 865-482-0045 or 865-482-0049, ext 1160 or 1161.  
Due to various state regulations and registration requirements concerning the dissemination of information regarding investment products and services, we are currently required to limit access of the following pages to individuals residing in states where we are currently registered.  Investment products and services available only to residents of: CA, CT, FL, GA, MI, NC, NH, NV, TN, WV
Fee-based advisory services are offered through SSN Advisory, Inc. a registered investment advisor.  These services are available only to residents of: CA, CT, FL, GA, MI, NC, NH, NV, TN, WV